Central Bank of Ireland – Implementation of the Individual Accountability Framework (IAF) and Senior Executive Accountability Regime (SEAR)
The Central Bank of Ireland (CBI) has concluded its consultation phase, leading to the release of a Feedback Statement along with new Regulations and Guidelines on the IAF. This initiative aims to reinforce governance, performance, and accountability in the financial services sector.
Key Elements of the IAF:
Senior Executive Accountability Regime (SEAR): Defines the accountabilities of senior executives – Note: this is not applicable to Insurance Intermediaries/MGA's
Conduct Standards: Enforced for all employees in regulated entities.
Improved Fitness & Probity Standards: Emphasising the competence of individuals in pivotal roles.
Important Timelines:
29 December 2023: Activation of the Conduct Standards and the improved Fitness and Probity Standards.
1 July 2024: SEAR Regulations become effective for targeted firms.
1 July 2025: Expansion of SEAR Regulations to encompass Non-Executive Directors (INEDs/NEDs) at targeted firms.
Revisions and Insights:
Prescribed Responsibilities (PR): Adjustments following feedback, including consolidation and redistribution of certain PRs.
Role Sharing: Specific PCF roles, like Head of Underwriting and Head of Investment, can be co-held, with detailed documentation required.
Documentation Obligations: Firms must maintain up-to-date Statements of Responsibilities and Management Responsibility Maps, with a 10-year retention policy.
The CBI will offer additional guidance on adhering to SEAR and Conduct Standards.
Interim appointments in PCF roles are included under this framework, with particular considerations.
Outsourcing and Certification Processes:
A designated PCF role holder is required for overseeing outsourcing.
Updated certification criteria for various positions, focusing on comprehensive due diligence for PCF and CF1-2 roles.
Disciplinary Reporting Adjustments:
Modified reporting standards for disciplinary actions linked to Conduct Standards breaches.
SEAR Applicability:
Relevant to banks (excluding credit unions), insurance companies, selected investment firms, and incoming third-country branches.
Full compliance required for incoming third-country branches and significant application to outgoing branches of relevant firms.
Immediate Actions: Members are encouraged to familiarise themselves with the new Guidelines, revise internal policies, and ensure adherence to the specified deadlines and stipulations. Special focus should be on the Conduct Standards, and the enhanced Fitness & Probity standards.
Note: Insurance intermediaries, including MGAs, are categorised as retail intermediaries by the Central Bank and are thus exempt from SEAR. This regime does apply to insurance companies, including life and general insurers (targeted firms).
If you would like to know more about the IAF and SEAR, please be sure to register for the MGAA's Compliance Insights Meeting on Tuesday 12th December at 11am.
Half of firms expect revenues to rise in the year compared with just 9% who are braced for a drop in revenue
But coping with inflation and higher interest rates could mean price rises for customers and cutbacks in the business
15th November 2023 – SMEs are optimistic for the year ahead expecting revenues to rise although concerns remain about how to cope with inflation and higher interest rates, new research1 from the UK's leading insurance premium finance company, Premium Credit, shows.
Premium Credit's Insurance Index, which monitors insurance buying and how it is financed, found 50% of SMEs expect their revenues to increase over the next 12 months. That is five and a half times more than the 9% who expect revenues to fall.
Around 15% expect revenues to be broadly unchanged while 26% were unable to make a forecast. The results are broadly similar to last year's index2 which found 49% predicting an increase in revenue while 11% predicted a drop in revenues. Around 14% expect revenues to stay the same and 26% were unable to make a prediction.
However the ongoing cost of living crisis driven by higher interest rates and inflation is casting a cloud over business hopes for the year ahead. Nearly a quarter of firms (24%) say they will raise prices for customers while 15% aim to cut staff costs by not replacing people who leave and limiting pay rises.
Around 12% will put expansion plans on ice while 11% will cut investment in their business and the same number will consider more remote working for staff to keep office costs down. Just under one in 10 (9%) plan to cut back on office space and buildings.
The key reasons for firms being optimistic are their plans for new products and opening new markets. Around 36% said their optimism was driven by plans to expand into new markets while 34% will launch new products. The continuing recovery from COVID-19 is driving optimism for 25% of firms and a hopeful 19% expect interest rates to fall in the year ahead.
Among firms who expect revenues to drop the main reason for pessimism is rising energy bills cited by nearly half (46%) with 36% pointing to rising interest rates. Around 33% say the rising cost of materials will hit revenues and 28% say their client base has shrunk with firms going out of business.
Late payment of bills remains an issue – around 22% of SMEs questioned say the issue has worsened in the past year. That is slightly lower than the 24% who said the situation had worsened in the previous index last year. The number who said late payment issues had improved also improved slightly to 4% from 3% previously.
Adam Morghem Premium Credit's Strategy, Marketing & Communications Director said: "SME confidence remains high despite continuing economic challenges and the impact of higher inflation and interest rates. Managing cashflow remains a major issue however with many firms looking at potential cutbacks and price rises.
"Our existing support for vulnerable customers is tried and tested, and we are reviewing what additional support is appropriate during this time of uncertainty."
Premium Credit is advising SMEs to consider premium finance which enables them to pay monthly for insurance cover instead of in a lump sum. Spreading payments for this everyday expense in such a way can help ease cash flow challenges and make paying for vital insurance simpler. Premium finance provides businesses with the ability to use a loan to pay for their insurance.
AM Best is maintaining its market segment outlook for the delegated underwriting authority enterprise (DUAE) segment at positive, citing its sustained growth and performance on a global basis and the ongoing ability to address underserved and emerging risks.
An additional factor partly contributing to the positive outlook is the technology and talent within the segment that continue to drive innovation, according to a new Best's Market Segment Report, titled, "Market Segment Outlook: Delegated Underwriting Authority Enterprises."
The report cites several offsetting factors, namely the tight capacity that is noticeable for certain risks, the uncertainty looming over the fronting market and the ongoing and evolving economic challenges.
AM Best defines a DUAE as a third party appointed by a (re)insurer through contractual agreements, to perform underwriting, claims handling and other administrative functions on behalf of its partners. DUAEs comprise entities such as managing general agents, coverholders, program administrators, program underwriters, underwriting agencies and appointed representatives.
"The DUAE segment is still burgeoning with opportunity despite capacity constraints, specifically in the property market," said Greg Williams, senior director, AM Best. "Our research shows that DUAEs are expanding their share of premium written across the broader insurance market, while new entrants keep growing in number."
AM Best's research has identified 654 managing general agents (MGAs) that generated direct premiums written in the United States of more than USD 65 billion. Insurance carriers striving for organic growth find the direct access DUAEs provide to policyholders to be profitable. The report notes that significant growth has occurred with DUAEs forming captives to take part of the business they produce as capacity partners look for greater alignment.
AM Best has not witnessed a sector-wide pullback of capacity for DUAE sourced business in 2023 and does not expect one in 2024. Reinsurers were prudent in their deployment of overall capacity at year-end 2022 and again at mid-year renewals, and even more so regarding the underwriting property risks. DUAEs active in reinsurance placement faced similar challenges to primary insurers, such as tightened terms and conditions, increased retentions, reduced limits, and lower ceding commissions.
To access the full copy of this report, please visit http://www3.ambest.com/bestweek/purchase.asp?record_code=337919 .
To view a video with AM Best Financial Analyst Riley Parnham on the DUAE segment outlook, please visit http://www.ambest.com/v.asp?v=duaeoutlook1223&AltSrc=182 .
Leading AM Best analysts will review 2024 market segment outlooks for the U.S. insurance industry's major segments, including DUAE and the global reinsurance industry in an online briefing scheduled for Tuesday, Dec. 12, 2023 at 2:00 pm EST. To register for the briefing, please go to http://www.ambest.com/conference/USMB2024 .
To view current Best's Market Segment Outlooks, please visit http://www.ambest.com/ratings/RatingOutlook.asp .
Director of Group Marketing, Communications and Sustainability for Markerstudy Group, Lizzie Smith-Foreman, has joined the board of the Managing General Agents' Association (MGAA).
Lizzie has been elected to join the board. She has over 20 years' marketing experience within the insurance industry and prior to joining the Markerstudy Group in 2010, which includes Markerstudy Insurance Services Limited, the largest UK MGA, she was a Marketing Brand Manager at mutual insurance group, Groupama, a subsidiary of Ageas.
In 2021, in addition to her role as Director of Group Marketing and Communications, Lizzie also became responsible for Sustainability across the Markerstudy Group.
Lizzie brings with her valuable expertise in helping organisations across the industry achieve commercial growth, through targeted marketing activities, aimed at raising awareness of their products and services among key stakeholders.
She joins existing board members; Charles Manchester, MGAA Chairman, Mike Keating, CEO, Jonathan Skinner of Jensten Group, Jeff Turner of Miramar Underwriting, David Coupe from DYC Insurelaw Consultants Limited, Keith Stern of Lloyd's, Marco Del Carlo from XS Assure, Lyndsey Thompson of IIGL, Chris Harman of Resolution Underwriting, Sharon Brown from nutshell consultancy and Jade Wilcox of HDI Global Specialty SE.
Mike Keating, CEO, MGAA commented on the appointment:
"Lizzie has significant experience in marketing across the insurance industry, helping a range of organisations reach the audiences that matter most to them.
"Working alongside the largest MGA in the UK at Markerstudy, Lizzie's understanding of the communications challenges facing the MGA landscape will be invaluable as we continue to grow our membership and develop our offering to existing members."
NEW SURVEY ASKS WHAT IMPACT HYBRID WORKING IS HAVING ON INSURANCE FIRM OPERATIONS AND TEAM COMMS? PLEASE SUPPORT THIS RESEARCH
As the dust settles on hybrid working practices, evidence is emerging of cultural and job motivation challenges across all types of businesses.

This survey from Pancentric and Modern Insurance Magazine seeks to understand the state of play in the UK insurance sector. What are your policies on work from home? What impact is the new normal having on productivity, internal collaboration, team culture, team comms? How are you adapting?

Insights from the survey will be shared with MGAA members to help shape future practices.
A tree for your trouble

Survey is multiple choice and only takes 2 minutes plus Pancentric will plant a tree for your survey response and there's also a year of gardening boxes to be won.
CLICK HERE TO COMPLETE THE SURVEY
Markerstudy and Ardonagh's personal lines broking business Atlanta will merge to create a major new platform transacting over £3 billion annual GWP across multiple insurance products in the competitive UK insurance market.
The enlarged group will combine complementary capabilities across underwriting and distribution to offer an enhanced proposition for the benefit of millions of customers.
The transaction values Atlanta at £1.2 billion.
The Ardonagh Group ("Ardonagh") and Markerstudy Group ("Markerstudy") have agreed a merger between Markerstudy and Atlanta Group ("Atlanta"), Ardonagh's personal lines broking business, to create a major new player in the UK insurance market.
The combined business will provide a wide range of insurance products to millions of consumers, including home and motor insurance, and will employ around 7,300 people across the UK. It will transact over £3 billion in annual Gross Written Premium (GWP).
The transaction, which is subject to customary conditions (including regulatory approvals), values Atlanta at £1.2 billion and will be funded by a new investment led by Pollen Street Capital and Bain Capital Special Situations. Ardonagh and its related parties will receive a combination of cash and a substantial minority equity stake in the combined business, in addition to two seats on the board of directors of the combined business.
Key Atlanta executives including Ian Donaldson, Craig Ball and Emma Rawlinson will join the Markerstudy management team as senior executives of the combined group.
With more than 2,100 colleagues across 12 locations, Atlanta manages c.£1 billion of GWP on behalf of 2.6 million customers. It distributes a broad suite of products through household insurance brands including Swinton, van specialist Autonet and motorcycle experts Carole Nash.
Markerstudy offers omni-channel distribution and a broad product proposition to approximately 6 million customers across motor, pet, home and commercial (particularly SME). The company has upwards of 5,200 colleagues, across 19 sites, and reported GWP of £2 billion in 2022.
The combined group will bring together highly complementary capabilities across pricing, underwriting and distribution and as a result will deliver an enhanced proposition for millions of new and existing customers.
Kevin Spencer, Markerstudy Group CEO, said: "As existing business partners, we have worked closely with Atlanta for a long time, and so we know first-hand just how exceptional the business and its people are. There are few deals in the market with the potential to be truly transformational for all parties concerned and a combination with Atlanta has been a long-term ambition of ours. The strong alignment in our models and shared values and ambitions simply could not be ignored. I've never been more excited for the future."
Ian Donaldson, CEO of Ardonagh Retail, comments: "The coming together of well-known insurance brands and talent from across Atlanta and Markerstudy creates a major new player in the UK insurance industry and is the latest chapter in our phenomenal growth story. With the support and backing of the Ardonagh Group, Atlanta has evolved from the van broker Autonet, into a major multi-product, multi-brand insurance challenger in the UK. This transaction is a huge testament to our people and we look forward to working with Kevin and his team to continue innovating and providing great value to our customers."
David Ross, CEO of The Ardonagh Group, said: "The Ardonagh strategy has always been to find and empower strong management teams, and to back their ambitions with a clear and relentless focus on equity value creation. This combination with Markerstudy is an important step in the Atlanta journey, and presents compelling opportunities for its customers and people. We are very proud of what the Atlanta team have achieved since joining our Group in 2017 and look forward to continuing to work with Kevin, Ian and our new partners at Pollen Street to create a major new player in the UK insurance market."
Michael England, partner at Pollen Street, said: "We are thrilled to support this merger. Under Ian's leadership Atlanta has expanded through organic growth initiatives and targeted M&A into a high quality distribution platform. Similarly Markerstudy has developed rapidly, growing strongly since we invested in 2021. In combining the two businesses we have an exceptional opportunity to support this major new platform."
Fenchurch Advisory Partners is acting as exclusive financial adviser to The Ardonagh Group on this transaction.
Continuum Advisory Partners is acting as exclusive financial adviser to Markerstudy and Pollen Street Capital on this transaction.
Skadden, Arps, Slate, Meagher & Flom (UK) LLP acted as advisers to the founders of Markerstudy on this transaction.
A Seamless Fusion of Reinsurance, Blockchain Technology, and Alternative Capital Resources
The pioneering blockchain-driven reinsurer, has announced a partnership with VIPR Solutions ('VIPR'). This collaboration aims to enhance security, efficiency, and transparency by connecting MGAs, underwriters, and reinsurance brokers with capital on-chain. This significant milestone represents a remarkable evolution in the reinsurance industry, bringing forth positive changes and opportunities for all involved parties. Historically, data fidelity from origination through ultimate risk bearing entities has suffered from significant degradation as it moves along the insurance value chain. In partnership with VIPR, Re can securely and immutably on-chain ensure that regulators, underwriters, and capital providers have the same view of the performance of any given insurance program.
In the insurance world, communication between parties has traditionally been cautious, prioritising risk mitigation over progress. However, Re is embracing a new era of hyper connectivity. Their visionary approach is set to bring about revolutionary improvements while maintaining a strong focus on risk management.

Re, established in late 2022, serves as an innovative provider of reinsurance capital to insurers by leveraging the power of blockchain technology. This allows members to access insurance premiums and enjoy unprecedented transparency in capital position and performance. Despite its recent entry into the market, Re already supports $35 million in gross written premiums across the U.S., with ambitious plans to expand its footprint to over $100 million in the near future.

Karn Saroya, Re's CEO, expressed excitement about the collaboration with VIPR: "As we continue to grow rapidly in the reinsurance space, having a world-class partner like VIPR to support our protocol with secure and seamless data sharing and standardisation is essential. VIPR's best-in-class data platform will bolster our ability to back a diverse range of insurance companies and their programs, further enhancing the transparency and complexity of Re's protocol."
Paul Templar, VIPR Founder & CEO, also shared his enthusiasm for the partnership: "Re's groundbreaking approach to reinsurance is transforming the industry, bringing transparency and new capacity to insurers and MGAs through blockchain technology. We are delighted to join forces with Re and offer our data management expertise to support their innovative mission. Together, we'll ensure the right systems, processes, and technology are in place, providing Re with a solid foundation for their protocol."
This partnership between Re and VIPR promises a brighter future for the reinsurance industry, with technology at the forefront, driving growth, transparency, and new possibilities for all stakeholders.
About Re
Re, a fully collateralised reinsurer, connects alternative capital providers to the nearly $1 trillion reinsurance market. With robust regulatory oversight, Re offers unique access to a traditionally opaque asset class. The Re protocol, a cutting-edge Web3 application, drives unmatched transparency in capital position and performance, benefiting partners, investors, and regulators. Explore the future of reinsurance with Re at Re.xyz.
About VIPR
Founded in 2009, VIPR Solutions is a leading insurance technology company that supports automation of back-office processes, particularly for program business and delegated underwriting authorities. VIPR platforms streamline bordereaux management and processing and coverholder management, as well as regulatory compliance, and provide users with powerful data insights capabilities for strategic analysis.
VIPR (pronounced "VY-per") was the first company of its kind to be approved by Lloyd's London Market for direct reporting. Today, over 40% of Lloyd's syndicates use a VIPR product, as well as some of the world's best-known carriers and intermediaries in Europe, Canada and the United States. Among VIPR's clients are a leading Swiss insurer, a top 10 US carrier, and the Canadian operations of two major international insurers, along with several smaller and start-up Managing General Agents and Brokers. www.viprsolutions.com
Collaboration will deliver actionable information relating to property-level climate change risks
This will be the first time Sust Global's data has been available on an underwriting platform
Includes visualisation of forward-looking global climate risk exposures, including wildfire, floods and cyclones
Gamma LI targets financial organisations and businesses with multiple property assets
Manchester, 22nd August 2022 – Gamma Location Intelligence (Gamma LI), a leading provider of location intelligence and risk assessment technologies, today announces a new data partnership with Sust Global, an expert climate analytics provider, which will enable it to deliver actionable information relating to climate change risks across international markets.
Sust Global is a provider of geospatial climate data and projections across hazards including wildfire, flooding, cyclones, sea-level rise, drought, and heatwave. It also provides Scope 1 and Scope 2 emission monitoring. Founded in 2020, the start-up has received funding from the European Space Agency and top-tier UK, EU and US venture capital firms. So far this year, the company has tripled in size (both employees and revenue).
Through this collaboration, Gamma LI will be expanding its focus on the fight against climate change by providing valuable insights on increasing physical climate risks for homes and businesses, which could impact organisations' property portfolios and investment decisions.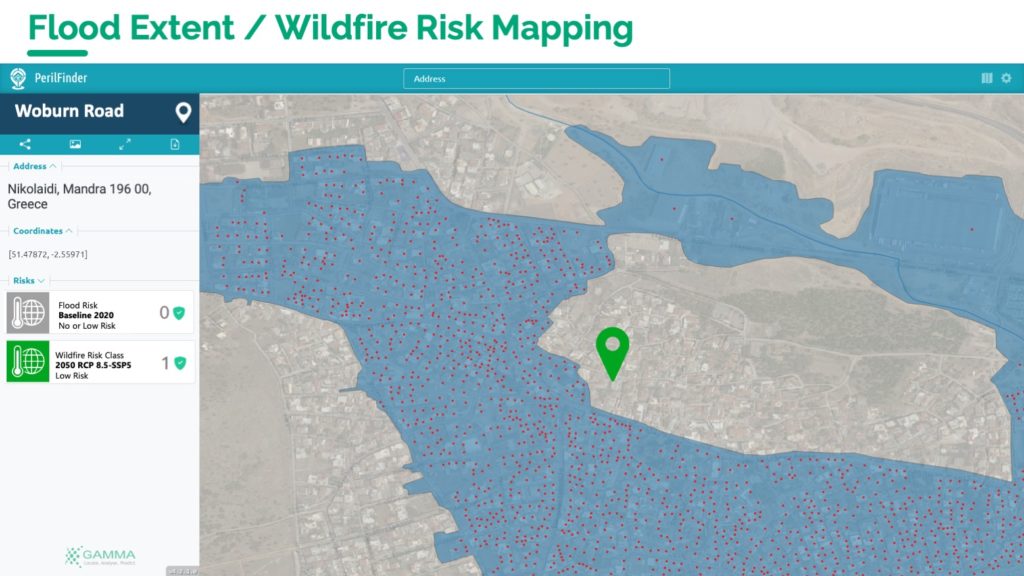 Gamma LI will be integrating Sust Global's data into its Perilfinder™ platform, enabling access for clients to worldwide, forward-looking climate change hazard maps and Application Programming Interfaces (APIs). This will be the first time that Sust Global's models will be available for insurers and banks on an underwriting platform like Perilfinder™.
As well as significantly expanding its coverage geographically, the partnership will see Gamma LI introducing and visualising new datasets, consisting of billions of data points, including a global forest fire model. In turn, the company will be able to offer its clients greater access to more insights, models and tools which support property-level assessments for current and future climate risk.
With this latest offering, it will specifically be targeting financial organisations including banks, lenders, insurance providers and assessment management companies, along with businesses with multiple property assets, such as real estate and private equity firms – including those with international portfolios and operating in international markets.
Speaking about the partnership, Richard Garry, Chief Commercial Officer, Gamma LI, said: "Our aim is to make it easy for clients to identify, assess and report on potential property level climate change risks. As well as expanding the reach of the data we deliver through Perilfinder™, this partnership enables us to offer insights on more risks across more markets and serve customers with a global solution.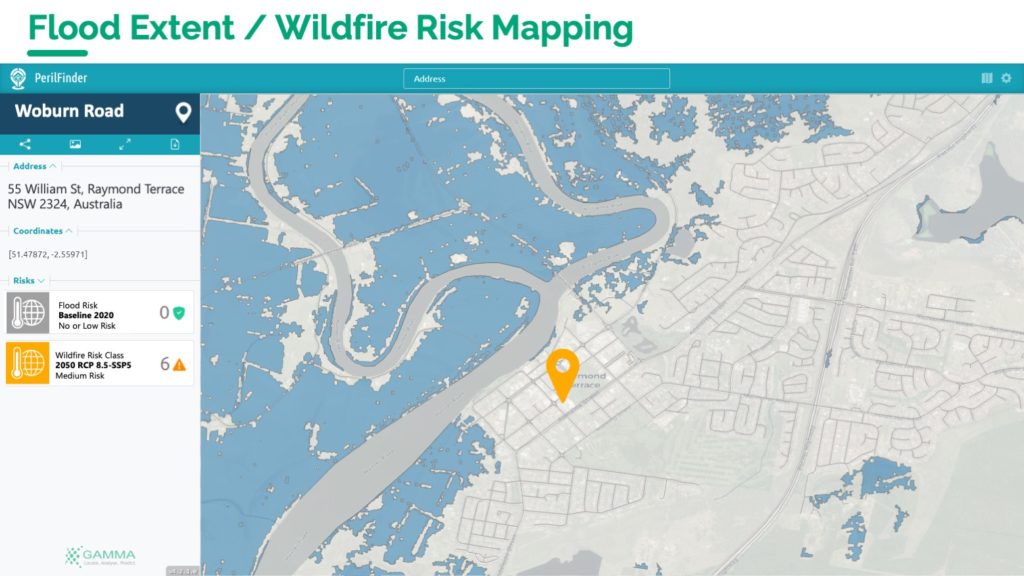 "Climate change impacts are increasing all the time and companies need to have a complete overview of all the risks that could impact their operations and portfolios. It's a challenging time, and everyone must play their part in measuring and reducing climate change impacts. To do that, you need data. Through Sust Global, with whom we are delighted to work, we are playing our part by equipping companies with the information they need to make more informed assessments."
Alastair MacGregor, Chief Operating Officer, Sust Global, commented: "We too are incredibly proud of this partnership. As an innovative property-level climate risk dashboard provider, Gamma LI is a good fit for our foundational climate risk data delivered via API, taking it to a growing audience. As well as helping both of our businesses to expand and grow, this collaboration is delivering valuable insights to companies that need to measure fast-evolving climate change risks and identify strategies to ensure that they can thrive on our changing planet.
"Getting access to high-quality data is one part of the puzzle, visualising it is the other part. Having Gamma LI take our information and make it more accessible and digestible for companies is fantastic. We look forward to seeing what the future holds in terms of the partnership and its transformational impact on sectors like insurance and banking."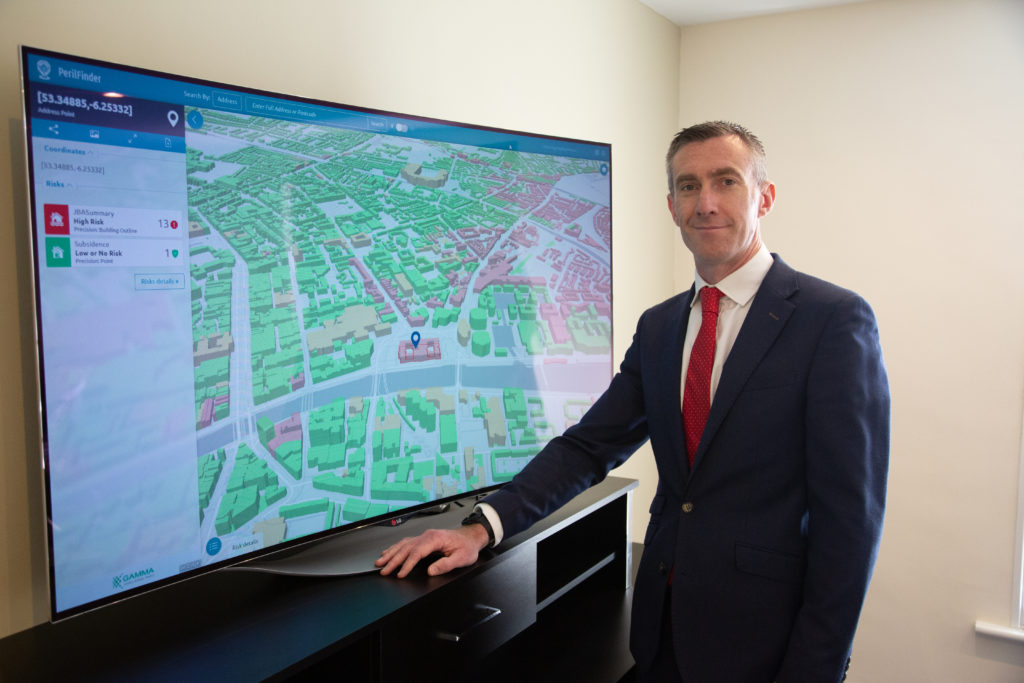 About Gamma Location Intelligence
Gamma Location Intelligence (Gamma LI) is a cloud hosted spatial solutions provider that integrates software, data and services to help our clients reduce risk through Location Intelligence. Established in Dublin, Ireland in 1993, and with offices in Manchester, UK and Bilbao, Spain, the company has expanded to become a global provider of innovative, cloud-hosted location intelligence solutions. For more information, visit https://gammali.co.uk/
---
About Sust Global
Sust Global is developing data-driven products that enable every decision to be climate-informed, so that humanity can thrive on a changing planet. We provide validated geospatial climate data projections to a high level of granularity, across time horizons, locations, and climate hazards through easy-to-use integrations into organizational workflows. Enabling climate-resilient action and sustainable investment across global business and finance through more credible climate data, our validated geospatial data enables customers to make the most informed decisions for the future.
Sust Global was founded in 2020 by Josh Gilbert (CEO) and Gopal Erinjippurath (CTO and Head of Product). Clients include the world's leading market intelligence providers, advisory firms, companies and financial institutions. Sust has received funding from the European Space Agency and leading UK/US Venture Capital firms, including Hambro Perks and Powerhouse Ventures.
The MGAA continues to go from strength to strength with your valued support and I'm pleased to confirm that membership has increased, across all tiers, over the last twelve months. The Executive team have continued to implement the recommendations of our members following our comprehensive research in 2021, and we will continue to ensure our propositions and membership content remains relevant to the needs of all our members as we enter our next financial year.
Some headline achievements of the year are;
Appointment of Tim Richards as our Technical Services Manager
Introduction of Technical Underwriting Forums
Introduction of Personal Lines Forum
Return to a full calendar of face-to-face events
46 online market briefings held
18% increase in our membership base across all tiers
Please take a look at our attached MGAA 2022 Annual Report which provides a summary of our highlights over the past 12 months.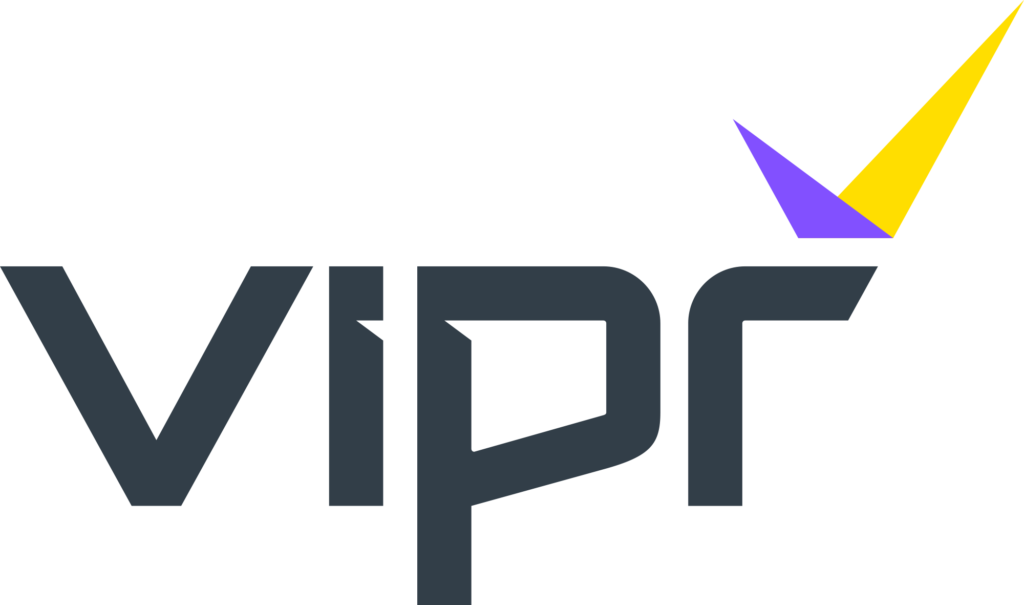 AUG. 5, 2022, London, UK: Gregory J. Massey, a property/casualty insurance executive with nearly 40 years' experience in commercial lines underwriting, has been named as the North American advisor for VIPR Solutions, a UK-based provider of software solutions for the insurance industry.
Massey recently retired from Zurich North America, where he served for 13 years in various senior roles, such as chief underwriting officer for commercial markets, senior vice president for property and casualty lines of business, and head of program business for middle markets, among other roles.
Prior to that, Massey spent 12 years as a commercial lines vice president for Selective Insurance Group. Before joining Selective, he held underwriting and management positions with Anthem Casualty and The Hartford. A graduate of the University of Denver, Greg also earned master's degrees from the Keller Graduate School of Management in Chicago and Quinnipiac University.
Massey holds the designations of Chartered Property Casualty Underwriter (CPCU), Certified Insurance Counselor (CIC) and Certified Risk Manager (CRM), and has served as an active volunteer leader of the CPCU Society, an affiliate of The Institutes, and The National Alliance for Insurance Education. He is also recognized as a Certified Program Leader (CPL) by the Target Markets organization.
Founded in 2009, VIPR (pronounced VY-per) supports the automation of insurance back-office processes such bordereaux processing and coverholder management, as well as regulatory compliance. Among other achievements, VIPR was the first software provider to be approved by the Lloyd's London Market for direct reporting. By 2018, a third of Lloyd's managing agents were using a VIPR product. VIPR picked up its first North American client in 2015 and is now seeking to expand its operations on this continent.
"We are delighted to welcome Greg to VIPR as part of our North American growth and expansion plan," said David Sweet, VIPR's chief commercial officer. "Greg's experience in this market is going to be instrumental in our future plans, helping to ensure that we deliver a class-leading solution to US and Canadian clients."
"VIPR Solutions enables the collecting and transferring of accurate policy data to carriers and TPAs," said Massey. "VIPR also provides the analytical ability to develop actionable insights that are critical to managing a portfolio of risks effectively.
"VIPR has demonstrated its capabilities for Lloyd's and non-Lloyd's syndicates and other European clients, so its expansion into North America comes with a demonstrated track record."
Contact details
Caroline Hanan
Head of Marketing / Communications / Media at VIPR
Email: chanan@viprsolutions.com