Registration is now open for our Virtual Capacity Exchange.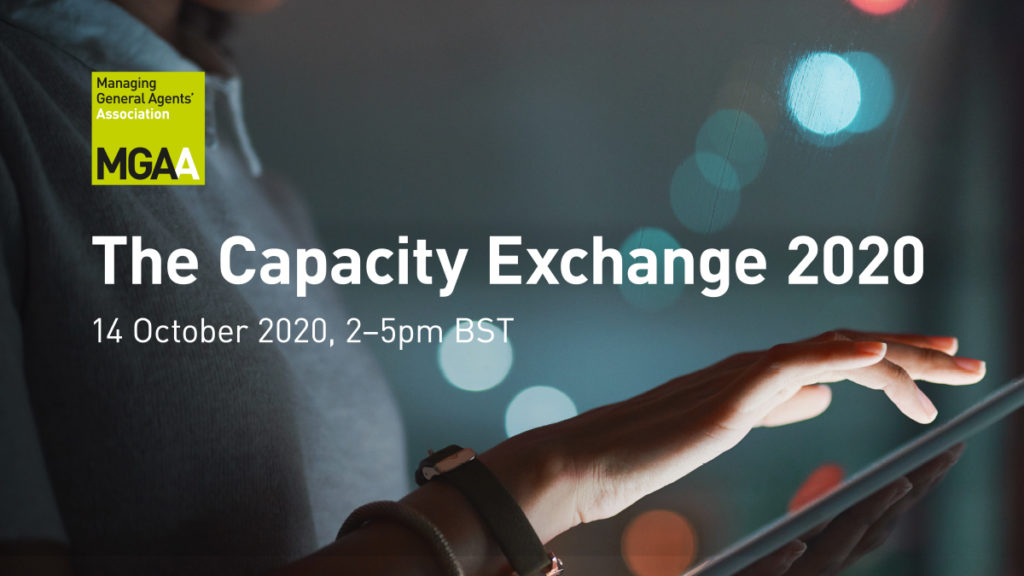 Once registered you will be able to browse the Market Practitioner members attending the event and book meetings to discuss capacity. The time slots are 10 minutes in duration between the hours of 2pm to 5pm, therefore we would request that that you only book one slot per Market Practitioner, to ensure all members get an equal opportunity to meet with capacity providers during this period.
Register for the event by clicking here.
Once registered you can return to the event and sign in to engage with the sponsors area and also book a meeting for the 14th October event.
Meetings will be booked on a first come first served basis therefore we recommend registering and booking early
How the event will work:
Market Practitioner members will host a 'virtual meeting room' and will remain in that room for the duration of the event
In advance of the event, MGA members will register and book meetings with the Market Practitioner members they would like to meet with
A calendar invite will be sent to the MGA individual who booked the meeting
On the day of the event all registered individuals will click the link in the calendar invite to enter the meeting room
Each meeting is for a maximum of 10 minutes
Once the time slot is over MGAs will move to their next meeting
How to book meetings:
Access the MGAA Capacity Exchange event here.
From the Lobby area click on book a meeting
Browse the capacity providers
Click the book a meeting icon
Identify the time slot and click to confirm
This will send you an automatic meeting request to your calendar
Accept the meeting invite and continue browsing to repeat
Market Practitioners
Accelerant
Arch Insurance International
Alesco DA
AXA Insurance
AXA XL
Covea Insurance
Chaucer
China Taiping
DTW1991
Ecclesiastical
Fidelis Insurance
HDI Global Specialty SE-UK
Hiscox
HSB
Lloyd & Partners
Lockton Re
RSA
Tokio Marine Kiln
Zurich
MGAA