We will look at the focus that the FCA is putting on equality and diversity, why it is important, what the FCA expects of firms going forward and what powers it can exercise to push firms to becoming more diverse.
Learning Objectives
By the end of this session you will have a clear understanding of:
What the FCA is saying about the need to improve equality and diversity across the financial services industry
What firms in this sector can do (and not do) to achieve diversity
How the FCA might use its powers in future to push firms to become more diverse.
---
About the speaker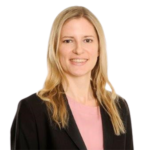 Olivia Toulson, Legal Director, Birketts
Olivia qualified as a Solicitor in 2005 and is a Legal Director in the Employment Team. She predominantly acts for clients in the financial services, life sciences and technology sectors.
Olivia has considerable experience handling employment tribunal litigation for employers, having worked on many complex, multi-day claims involving unfair dismissal, discrimination, whistleblowing, breach of contract and unlawful deductions from wages. She has advised on matters in the Employment Tribunal, Employment Appeal Tribunal and Court of Appeal.
Olivia also has considerable experience working on cross-border international transactions and managing day-to-day international employment advice for clients operating in multiple jurisdictions.
Olivia understands the unique challenges faced by clients, having spent two spells in business – the first acting as in-house Employment Counsel for a global investment management company managing advice in EMEA and APAC and the second as Global Employment Counsel for one of the world's leading on-line payments companies.
Olivia has a particular interest in helping companies navigate their way through compliance with the Senior Managers & Certification Regime (SMCR). She is a member of the Financial Services Lawyers Association, sits on the Employment Lawyers Association (Regulatory and Finance) Committee and is a contributing editor of Bloomsbury's "The Employment Practitioners Guide to Financial Institutions".