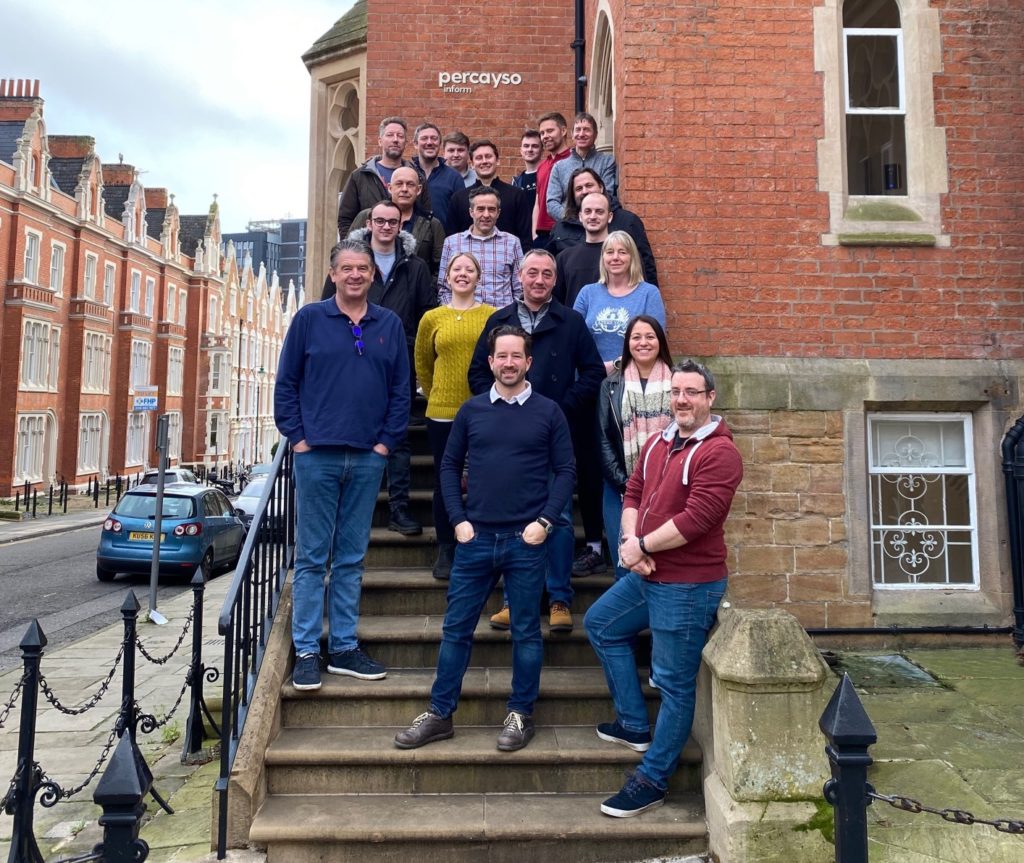 Investment set to drive product development and access new sectors of UK market
2 February 2022 – Insurance data intelligence provider Percayso Inform (Percayso) has announced a major £3.4M investment led by Manchester-based venture capital investor, Praetura Ventures.
Launched in the UK insurance market in 2019, Percayso's data and intelligence hub ingests and adds value to a vast array of powerful datasets to provide next generation insurance intelligence services to insurers, brokers and MGAs in personal and commercial lines.
Percayso's technology aggregates data from many different sources, allowing intelligence to be accessed with a simple API call at significant volume. This empowers insurance providers to use Percayso's platform to intuitively build, adapt and optimise their own data enrichment, rating and intelligence strategies. Its platform and advanced tech allows insurance providers to take control of their own strategies and deployment by enabling rules and models to be used in their own environments via a SaaS model.
The founding team has now grown to 22 people with a vast amount of previous industry experience. So far, the team has been focused on building the platform, sourcing data partners and creating key software house integrations to ready the business for scale.
The investment secured from Praetura Ventures will see product development by Percayso gather pace, enabling the business to enter new sectors of the UK insurance market.
"This investment and our new partnership with Praetura Ventures is a powerful endorsement of our vision, our strategy and the solutions we are delivering to the insurance industry," said Percayso managing director, Richard Tomlinson. "The team at Percayso has achieved an awful lot in a short space of time, but we have ambitious plans and their backing will allow us to accelerate our roadmap.
"However, this deal represents more than just funding. What really attracted us to Praetura Ventures was their approach to giving more than money to the businesses they invest in. Their understanding and enthusiasm for all things tech, together with the additional business skills they bring, will provide the support we need to take things to the next level."
David Foreman, managing director at Praetura Ventures, said: "The investment team has an incredibly thorough due diligence process and we were so impressed with how highly Percayso's clients spoke of them. Their team has built a valuable tool that can clearly help insurance providers to get more from their data and create a real advantage. We're so excited to welcome them into the portfolio and help them reach the next level."
The Percayso deal was facilitated by Guy Weaver and Sim Singh-Landa from the Praetura Ventures investment team and advised by the legal team at Irwin Mitchell.
–ends–
For more information or to arrange a chat with Richard Tomlinson, please contact Lesley Bennett at LMR Communications on +44 (0)7815 778038 or email lesley@lmrcomms.co.uk
About Percayso Inform
Percayso Inform's insurance intelligence goes beyond traditional data enrichment, providing unique, real-time solutions at all stages of the insurance lifecycle and delivers unrivalled insight into insurance customers, risk and fraud. Learn more at percayso-inform.com and LinkedIn
About Praetura Ventures
Praetura Ventures is a Manchester-based venture capital firm which invests in early-stage, high-growth businesses across the UK, with a particular focus on supporting entrepreneurs across the North of England.  
Praetura Ventures is committed to adding value post-investment and providing the 'more than money' support that businesses need to grow, including additional expertise, resources,  networks and guidance, to its investee companies.  
Since 2019,  Praetura Ventures has invested more than £20m in 21 businesses, including North West headquartered businesses Sorted, Culture Shift, LCC and Peak.   
The firm also launched a Venture Partner programme – an innovative and collaborative programme that is aimed at experienced,  connected and successful individuals who have a desire to add value and potentially provide mentorship, advice, introductions and investment to the next generation of entrepreneurs. In just a few months, the firm has grown its Venture Partner base to 50+ members, typically C-suite level individuals.  
Learn more at praeturaventures.com and LinkedIn